League of Tickles II
NOTE: This game contains adult themes that involve bondage, tickling, and sexual themes! It's not for everyone!
Tickle-lovers Brandon and Cissy decided to continue playing an MMORPG based on the LoL Characters!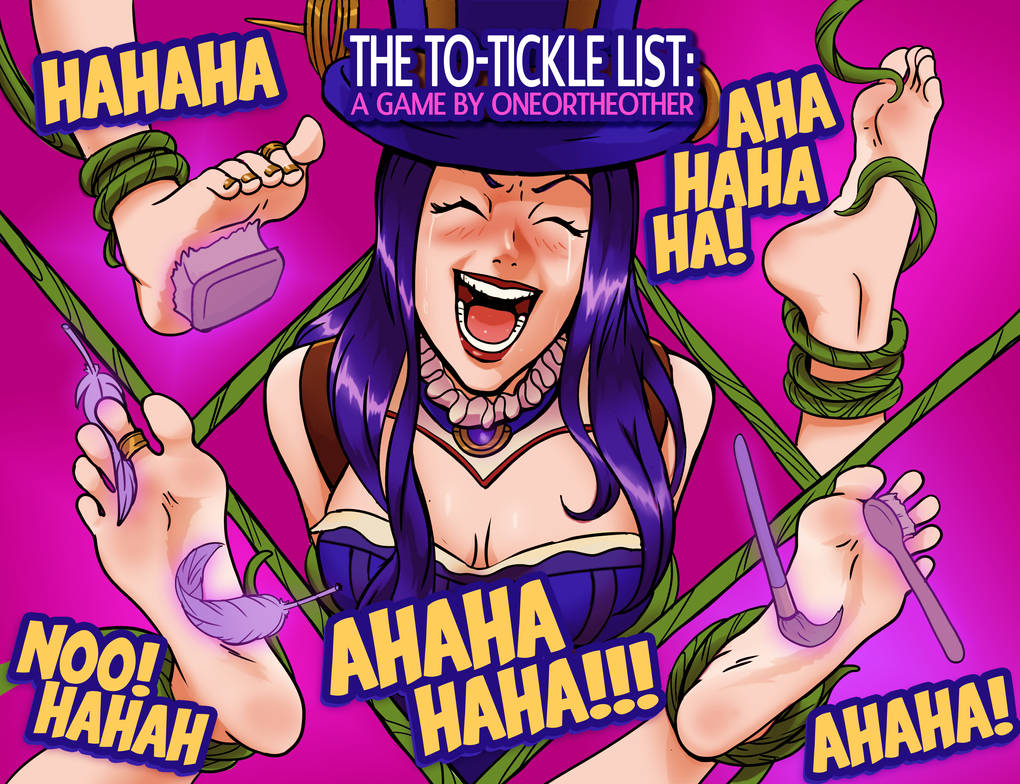 What to expect in this game?
1. 48,000 words to tell the story of vanquishing the champions of League and tickling them with guile and skill!
2. 18 New League of Legends Champions to tickle! The full cast for this oneis as follows:
Caitlyn, Evelyn, Leona, Diana, Kai'Sa, LeBlanc, Vayne, Kayle, Morgana, Elise, Neeko, Camille, Zyra, Janna, Shyvana, Ezreal, Xayah and Rakan.
And regulars Brandon, Cissy, and Gigi will get some tickles too, of course :)
3. Tickle scenes with plenty of player agency! In every scene, you'll have choices! Choices of how to tickle, sometimes choices of who, choices of what to say, and etc! Interactivity is the strongest thing about the video game medium, and I intend to take full advantage of it!
4. Replay Centre! Didn't make a save before a great tickle scene? The Replay Centre has you covered! You can replay every tickle scene there as many times as you like.
5. A more nuanced approach to quest design: Anecdote time! In the last episode, I was quite surprised to hear how many people enjoyed the Sejuani questline, considering she's not exactly the most popular nor attractive Champion. However, I realised this was because of the build-up and how her quest was designed. For Sejuani, it starts with a battle outside her fortress, where you get your butt kicked. You're thrown into her jail, and you need to sneak/fight your way through her base, involving drugging her loyal protector Bristle (this giant boar), and finding the Champion asleep in her bed, where a detailed, multiple-choice tickle scene occurs.
I wanted to try to have fewer 'find this Champion, fight, tickle' quests, or at least try to make the situations a little more unique and distinctive. Without spoiling which Champions are involved, here's a bit of info about a few of the quests…
A murder investigation.
Searching a haunted mansion full of corpses and creepy-crawlies.
Seeing two Champions battling and choosing how to intervene.
Tracking down a mysterious factory thief.
And much more!
6. A variety of mini-games including rhythm fighters, turn-based battles, and lockpicking.
7. A more immersive and genuine experience with many details from League! I've also tried to stay true to the characters as best as I can!
8. Open-world approach: after the brief introduction, you're free to wander Noxus, Piltover, Targon, and the Shadow Isles in search of ticklish Champions! And the Quest Log is there to remind you of who you've tickled and who you haven't! Go for your favourites first or go through the regions one at a time – it's all up to you!
9. This game is part of my series 'The To-Tickle List', but it's a stand-alone game, so no prior knowledge is needed.
This game is available directly on itch.io for those who might prefer to pay directly as well as on Patreon, where you can also download the other games in the series at a reduced price. https://www.patreon.com/oneortheother
You can find more information about the previous games here, including several that are available in their entirety for free:
https://www.deviantart.com/oneortheother/gallery/73867025/the-to-tickle-list
Your support would mean a lot to me and help me continuing making passion projects like these games for you guys, so thanks for all your support <3
Purchase
In order to download this game you must purchase it at or above the minimum price of $5.99 USD. You will get access to the following files:
League of Tickles II Mac.zip
362 MB
League of Tickles II Win.zip
361 MB